8 Teen Bedroom Organizing Hacks You Will Love
I have been organizing quite a few teen bedrooms lately and wanted to share some ideas that may help you with your teen bedrooms. Teaching your teens to pick up after themselves, clean and organize their rooms will be a different blog all together, but these ideas will help clear the clutter and create great looking bedrooms.
1. Utilize under the bed storage
This simple and stylish bed frame takes advantage of otherwise unused space by creating storage under the bed. If your bedframe does not come with built in storage simply slide labeled bins under the bed to store out of season clothes, old school projects, books etc.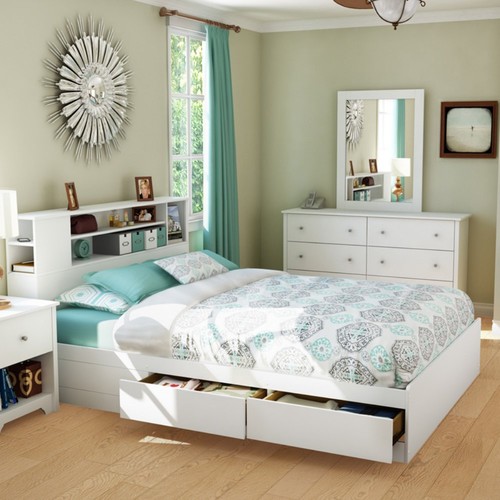 2. Install closet organizers
Take advantage of every inch of your teen's closet by installing closet organizers. Your teen will now have a place to store staple items that usually find themselves in random places or on the floor. Their shoes, bags, belts, and hats now all have their own designated storage area. The closet organizer also allows your teen to separate their clothes by style or type, making putting their laundry away and picking out outfits a lot easier and a lot quicker.
Via Ana-White
3. Hanging Shelves
Hang shelves where your teen can display their trophies, achievements, pictures, and other special moments. This will reduce the clutter on their dresser and desk tops creating an overall cleaner and more organized look.
Via HGTV
4. Drawer Organizers
Inserting drawer dividers into your teen's dresser will help turn clothing chaos into simple and clean organization. The drawer organizers will help keep clothing nicely folded and categorized making it quick and easy for your teen to find what they are looking for.
Via Divine Style
Also good for belts and other small items.
Via Amazon.com/Ikea
5. Desk with drawers
Give your teen their own personal quiet space to do homework, study, or simply get creative by adding a desk into their bedroom. A desk with lots of storage space is ideal as it will give your teen a place to store their school books, stationery items, or makeup and avoid cluttering the top of their work space.

Via Rhteen
6. Laundry baskets
Provide your teen with a dual sectioned laundry basket. It not only keeps clothes off the floor but also makes doing laundry simple and organized. Whether they are separated by towels and clothes, or lights and darks it makes throwing a load of laundry into the washer that much easier. Keep it simple and keep it organized.
Via Basket Lady
7. Bedside table electronics drawer
Make the best of your bedside table. Create your teens own charging station in the top drawer of their nightstand. This will eliminate the unappealing clutter of cords by hiding them in a drawer. Perfect for storing and charging their everyday electronics such as their phone, tablet, and laptop.
Via How to Decorate
8. Use wall space for your favourite items
Love how they used polygon shape shelving to display favourite items, and having the name in the corner with the strip of orange is an added bonus.
Via Printerinks
Hope you enjoyed these 8 Teen bedroom organizing hacks. Which one did you like best? Do you have any teen bedroom organizing hacks that you would like to share?
Happy organizing,
Kathy
Need help decluttering and organizing your home?
Make sure you sign up for my FREE Masterclass on the 3 Most Important Steps to Decluttering And Organizing Your Home!
Home Organizing Courses:
Are you ready to learn the tips and habits that will help you have an organized home? Check out our popular Calm the Clutter program.  
You can also check out my course on Paper Organization: How to Declutter and Organize Paperwork HERE. A course for an unbelievable low price!
More Links:
Would you like free organizing tips, documents, checklists, support from our members and more?
If so, be sure to join our Facebook community Organize for Success. Would love to see you there!
For a list of our favourite Amazon home organizing products go HERE
Follow Kathy on Instagram @kathyorganizes
https://www.kathymcewan.com/wp-content/uploads/2017/02/Untitled-design-40.png
600
800
Kathy McEwan
https://www.kathymcewan.com/wp-content/uploads/2017/10/kathy-mcewan-logo-2-300x72.png
Kathy McEwan
2017-02-14 21:57:16
2022-12-01 15:23:23
8 Teen Bedroom Organizing Hacks You Will Love